Shipley, West Yorkshire
St Paul's Church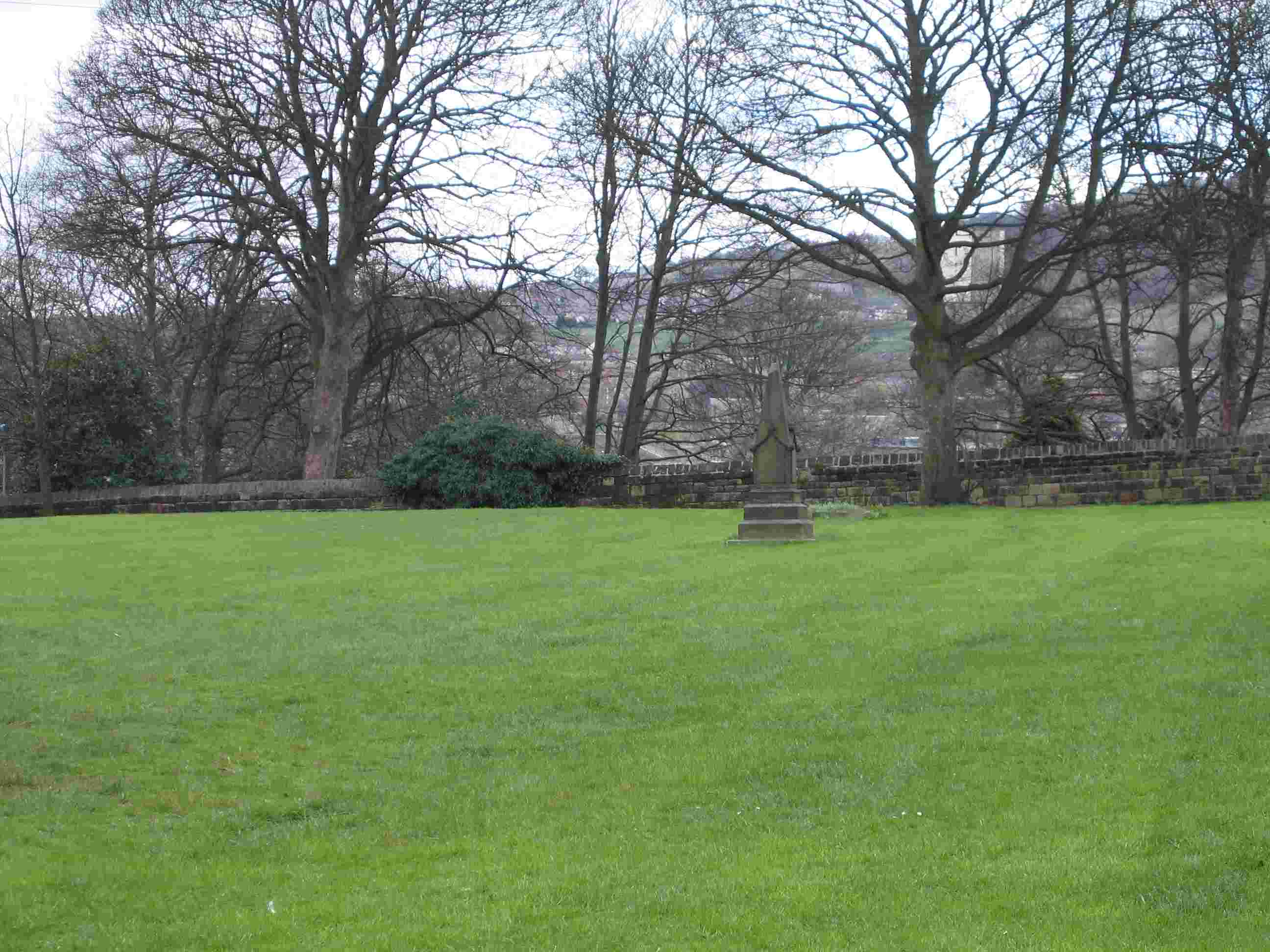 Tombstones in other parts of the Church Grounds
Behind the Church
In the lower churchyard most of the tombstones have been buried. There is a list of all these stones, their inscriptions and their original plots which I hope to be able to include here.
Dixon

Sacred to the Memory of the Rev. James Dixon D.D. Born near Castle Donnington, Leicestershire, 29 October 1788.
Who for fifty years was engaged in the Ministry of the Wesleyan Methodists. In 1841 became President of the Conference in England and in 1848 President of the Canainan Conference.
He died in Manningham Bradford, 28 Dec 1871, Aged 83.

Wood

In Affectionate Remembrance of John W..man Wood infant son of Nicholas John & Sarah Wood of Manningham Born December 19th 1863, Died July 13th 1864.
George Alfred Wood 12 West Yorks. Born November 22nd 1896 Missing ..mont August 16th 1916.
Also of the above Sarah Wood Born December 29th 1839 Died October 9th 1919.
Also of the above Nicholas John Wood Born November 8th 1840 Died March 7th 1924.
Also of Sarah Alice Wood Died May 15th 1957, in her 83rd year
Also of her sister Mary Wood died January 13th 1958 in her 82nd year

Marshall and Kearton

In Memory of
The youngest daughter of the late John and Harriet Kearton who died May 7th 1918 in her 39th year.
Also of Mary Ellen (Nellie) eldest daughter of John & Harriet Kearton died June 16th 1944 aged 82 years
In Memory of Sarah (Sally) Marshall Died Feb 24th 1969 in her 94th year
Dora dearly loved daughter of the aforesaid Sally, who died March 13th 1984 in her 79th year.
Next to this stone is another against the wall, almost completely hidden by overgrowth. Below is what I could read:
If you would like me to send you a photograph of any of the tombstones from this Churchyard please contact me.
I would be really grateful if somebody would check the accuracy of my transcriptions as I live in the South of England and it is a long way to travel to Shipley
Almost all the headstones in this cemetery have been moved, many placed around the churchyard against the boundary walls, many laid on the ground as paving stones. Some are surely missing as some inscriptions start with words such as "Also the aforesaid" indicating that somebody else from the same family was buried in the same grave before this person.